Enclosed in a heavy duty tubular frame, the M.F. Power Unit can be supplied for free standing use, or fitted with four castors for mobility.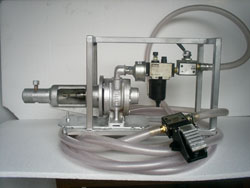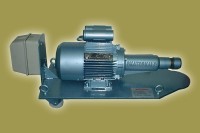 All electric motors are totally enclosed, fan cooled and continuously rated. Motors up to 5.5 HP (4Kw) are available in voltages to suit customer requirements. Machines are controlled via a push button starter. Hand or foot operated remote control stations are available if required.
Air operated motor units are supplied with control valve, oil mist lubricator and silencer. This motor requires a pressure of 80/100 lbs p.s.i. (5.5/6.9 bars) and consumes a volume of approximately 130 cubic feet (68 litres/second) .